Leningrad region is an important cultural and tourist centre of Northwest Russia.
Leningrad region has high cultural and tourism potential for development of both classic forms of tourism and new directions: ecotourism, rural tourism, active tourism.
The most visited touristic territories of Leningrad region are Vyborgsky, Volkhovsky, Priozersky and Gatchinsky districts. The most interesting places for tourists are: Vyborg Castle, Korela Fortress, Fortress in Staraya Ladoga, Tikhvinsky Uspensky Monastery, Oreshek Fortress (Shlisselburg), palace and estate museum Gatchina, Monrepos Park, Rozhdestveno Memorial Estate, objects on the Road of Life, caves in Sablino.
There are more than 5,500 objects of cultural heritage in Leningrad region, including: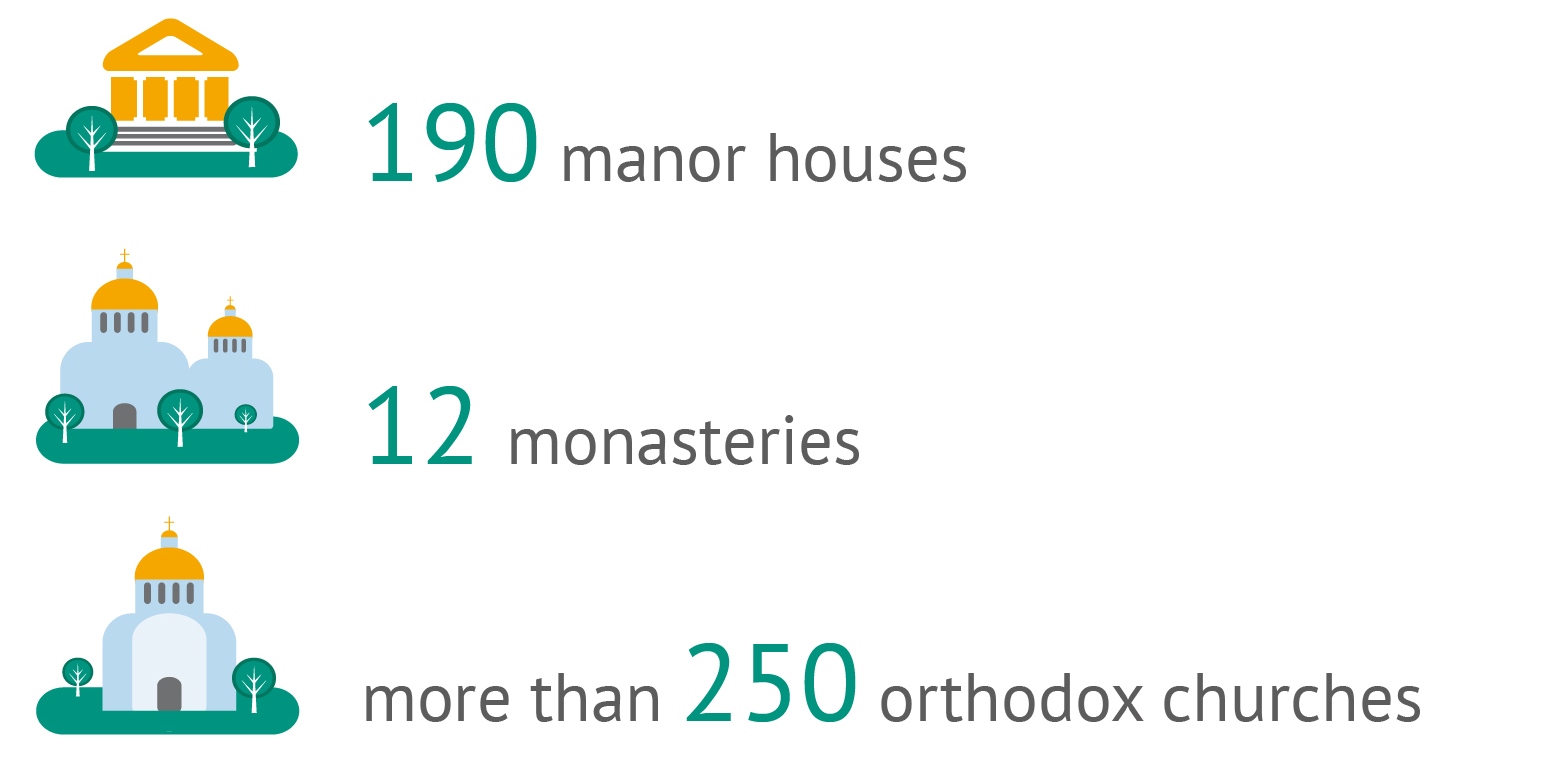 It is worth mentioning that the region has high level of tourism infrastructure development. Leningrad region has:
more than 780 collective accommodations, including: recreation centres, tourist camps and hotels, recreation institutions for children, sanatoriums and pensions
more than 1,500 public catering establishments
more than 180 travel companies
13 information and tourist centres
---
The main historical and cultural centres of the region with high potential for development and tourist attraction are Vyborg and Gatchina.
Vyborg is located 122 km away from Saint Petersburg, it is one of the largest and well-preserved examples of European medieval culture in Russia. The main tourist attractions are Vyborg Castle, Alvar Aalto library, Monrepos Park. Vyborg was established in the Middle Ages by Swedes and it is the only historic settlement in Leningrad region.
Tourist infrastructure in Vyborg:
28 collective accomodations
more than 150 public catering establishments
35 travel companies
more than 300 objects of historical, cultural, architectural heritage
---
Gatchina is the largest town in Leningrad region (population – 96 thousand people) located 47 km away from Saint Petersburg. Gatchina is an industrial, scientific, cultural and educational centre of Leningrad region. The main place of tourist interest is palace and park ensemble with its central element – the Great Gatchina Palace.
Tourist infrastructure in Gatchina:
13 collective accomodations
22 public catering establishments
22 travel companies
45 objects of historical, cultural, architectural heritage
1 tourist information center