Today the cluster of building materials is in the process of formation. Cluster development will occur due to creation of new manufactures producing materials for house construction, energy, furniture industry and decorative materials. A good example of successful large-scale investment project in this area is the construction of a new brick factory by Pobeda LSR, according to the contract of 2009. The design capacity of the new plant is 220 million bricks per year, and it will allow Pobeda LSR to fill the growing need of Saint Petersburg and Leningrad region in this building material. Availability of Saint Petersburg's market is a powerful growth driver for the cluster and further development of transport and logistics cluster will simplify access of production made by regional enterprises to the markets of Central Federal District, including Moscow and Moscow region.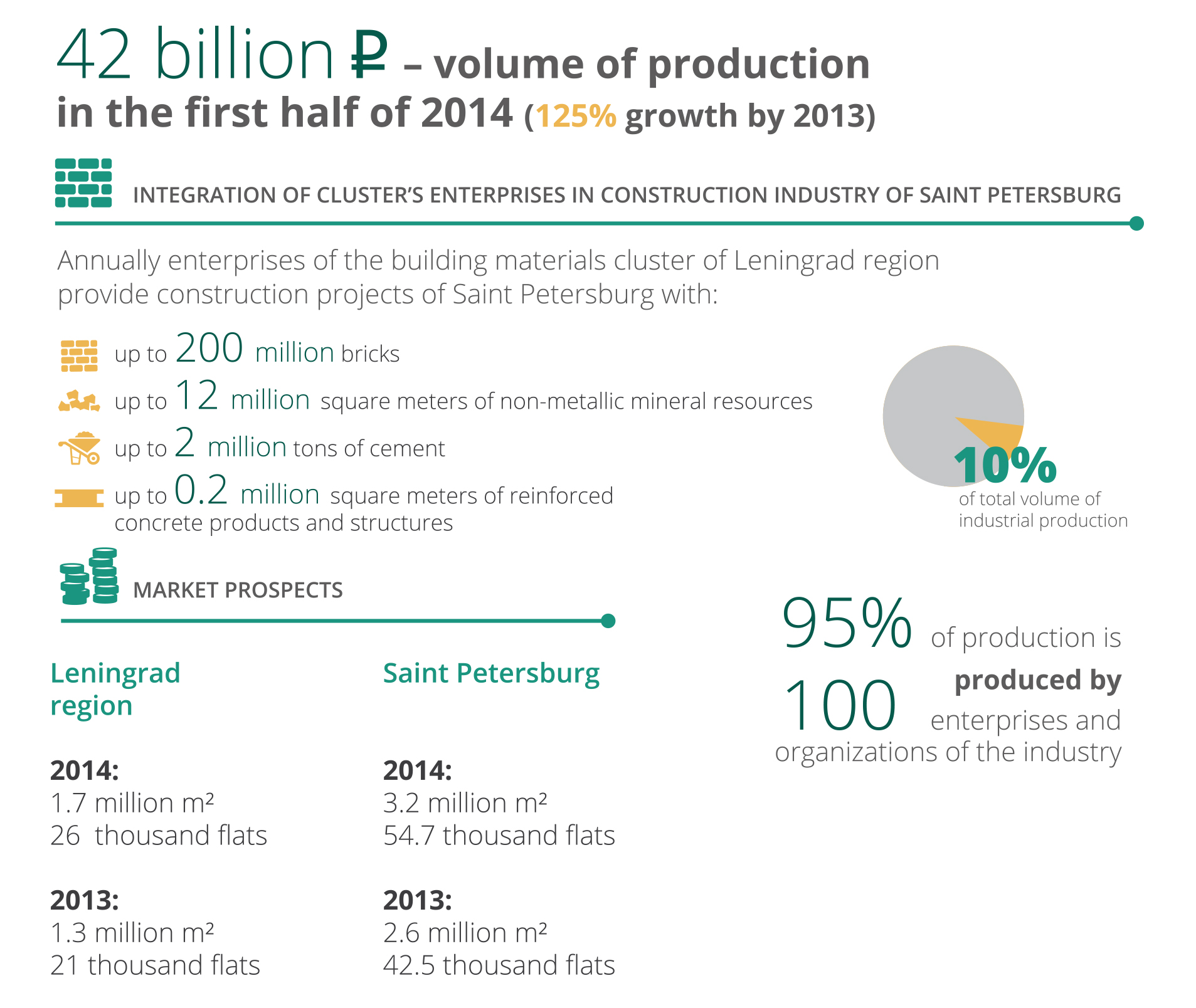 Main tasks of the Cluster:
formation of a base for sustainable development of individual municipal districts in the region;
strengthening the depth of processing of available resources, including research into new materials;
creation of conditions for development of small and medium-sized businesses in the sectors of building materials and timber processing.
The main partner countries with potential investors in the cluster of building materials are Germany, France, Spain, Great Britain. Russian manufacturers of cement, brick and metal products will also play a significant role as investors in development of the building materials cluster.
Main investment projects that will provide the growth of production in the short term are:
commissioning of new production capacity for building bricks by LLC Ladoga brick;

construction of ceramics factory by JSC Solex in Kingiseppsky district;

new cement production plant by JSC Slantsevsky Cement Plant Cesla with capacity of 1.2 million tons of cement per year.
In the future the Cluster will be developing due to construction of new plants for production of ceramic tile, construction mixes, finishing materials, materials and structures for prefabricated buildings.
Main types of support provided by the Government of Leningrad region in this Cluster:
tax incentives for attraction of investments to the territory of the region;

development of investment sites;

creation of the regional chain of funds for development and support of business and industry.