The pilot innovative territorial cluster of medical and pharmaceutical industries and radiation technology is located in the territory of two subjects of the Russian Federation — Saint Petersburg and Leningrad region — and is a historically-formed agglomeration of research & development and production organizations, as well as medical, pharmaceutical and radiation technology companies.
Key areas of the scientific, technical and production development of the cluster:
Research on and study of biologically active substances of synthetic, phytogenic and microbiological origin to develop import-substituting original domestic drug substances on their basis.
Development of original domestic import-substituting medications and drug substances, production technologies and methods to control their quality at plants set up in the region.
Development and production of original domestic import-substituting medical equipment.
Development of nuclear technologies for the next generation of nuclear power plants. Research and development in nuclear medicine.
Development and production of original import-substituting radiopharmaceuticals, isotope products and radiation sources.
Fundamental and applied research on elementary particle and high energy physics, nuclear physics, condensed matter physics, molecular and radiation biophysics, proton studies.
Research and development in the interests of defense and security of Russia.
---
Competitive advantages of the Cluster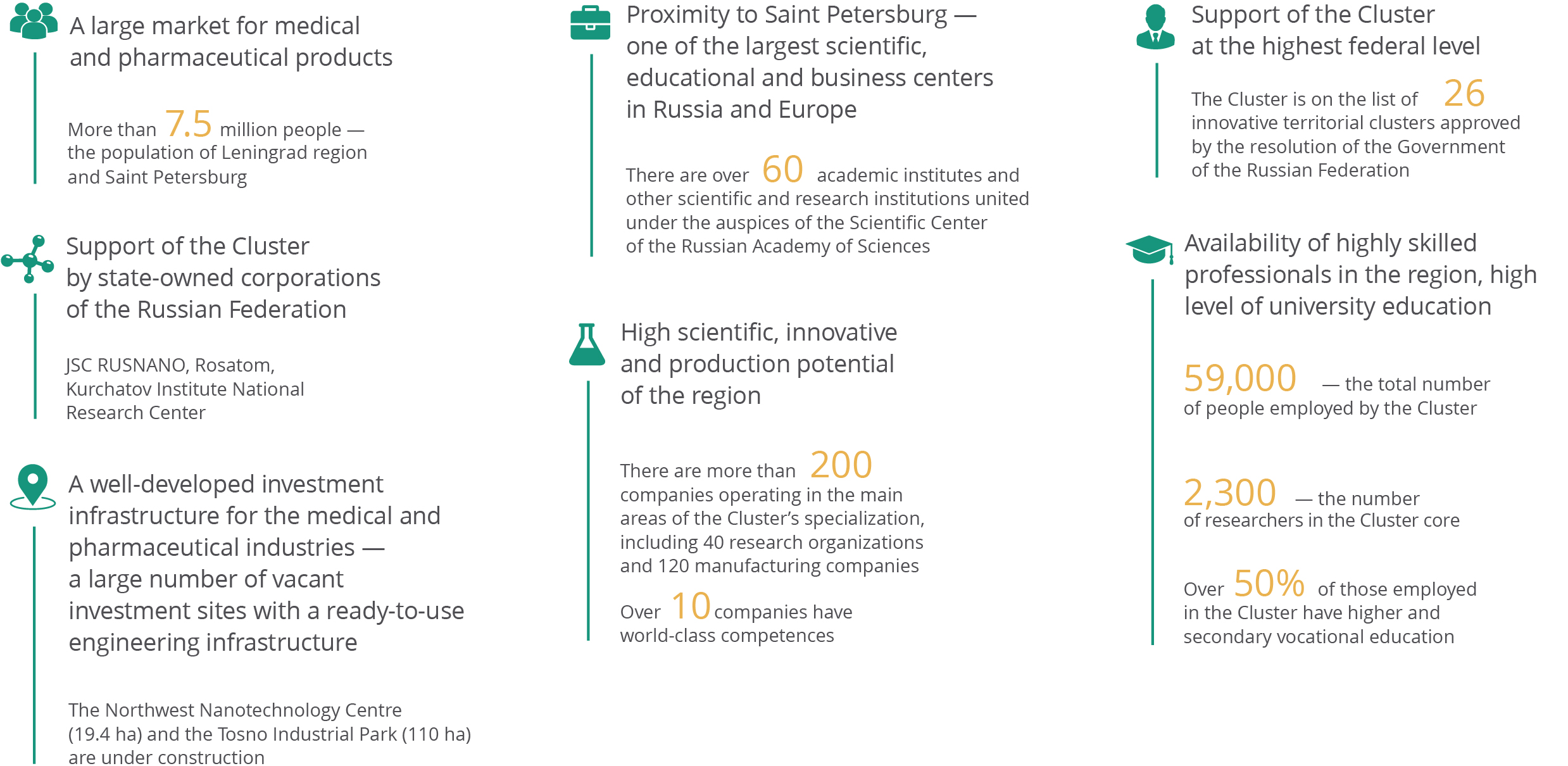 ---
Specialized organization for development of the Cluster
Non-commercial partnership Northwestern Cluster of Medical, Pharmaceutical Industry and Radiation Technologies established in accordance with the Decree of the Government of the Russian Federation of 30.06.2015 № 659. The members of the Partnership are the Government of the Leningrad Region represented by the Innovation Agency of the Leningrad Region and the Northwest Technology Transfer Center.
Mission of the Partnership:
Creation of favorable conditions for effective interaction of its members, educational and scientific institutions, non-profit and public organizations, state and local government authorities with the aim of developing the medical & pharmaceutical industries and radiation technology in Leningrad region and the Russian Federation.
Role of the Partnership:
The system coordinator of the Cluster member organizations, regional authorities, infrastructure facilities, government support measures, mechanisms for development of innovative activities in Leningrad region, and supports innovation projects from the time of their origination to reaching design capacity. Moreover, the partnership deals with methodical, organizational, expert and analytical development and information support of the Cluster and its members.
Booklet Cluster of Medical, Pharmaceutical Industry and Ratiation Technology of Leningrad Region
---
Key organizations of the cluster