The Cluster is located in the territory of two subjects of the Russian Federation – Saint Petersburg and Leningrad region and it is a historically developed localization of more than 200 organizations including 40 research and 120 industrial organizations. Total number of people working in the Cluster is more than 59 thousand people.
Competitive advantages of the Cluster:
high innovative, scientific, research potential;
modern material and technical resources;
highly qualified personnel;
favourable economic and geographic location;
more than 4.5 thousand ha of industrial land plots with access to utilities.
Specialized organization for development of the Cluster
Non-commercial partnership Northwestern Cluster of Medical, Pharmaceutical Industry and Radiation Technologies established in accordance with the Decree of the Government of the Russian Federation of 06.03.2013 № 188.
Aims of the Partnership:
coordination of activities carried out by the organizations participating in the Cluster and assistance in implementation of projects;
creation of conditions for efficient interaction of industrial enterprises, educational and scientific institutions, non-commercial and public organizations, state authorities and local authorities and investors aimed at development of the Cluster.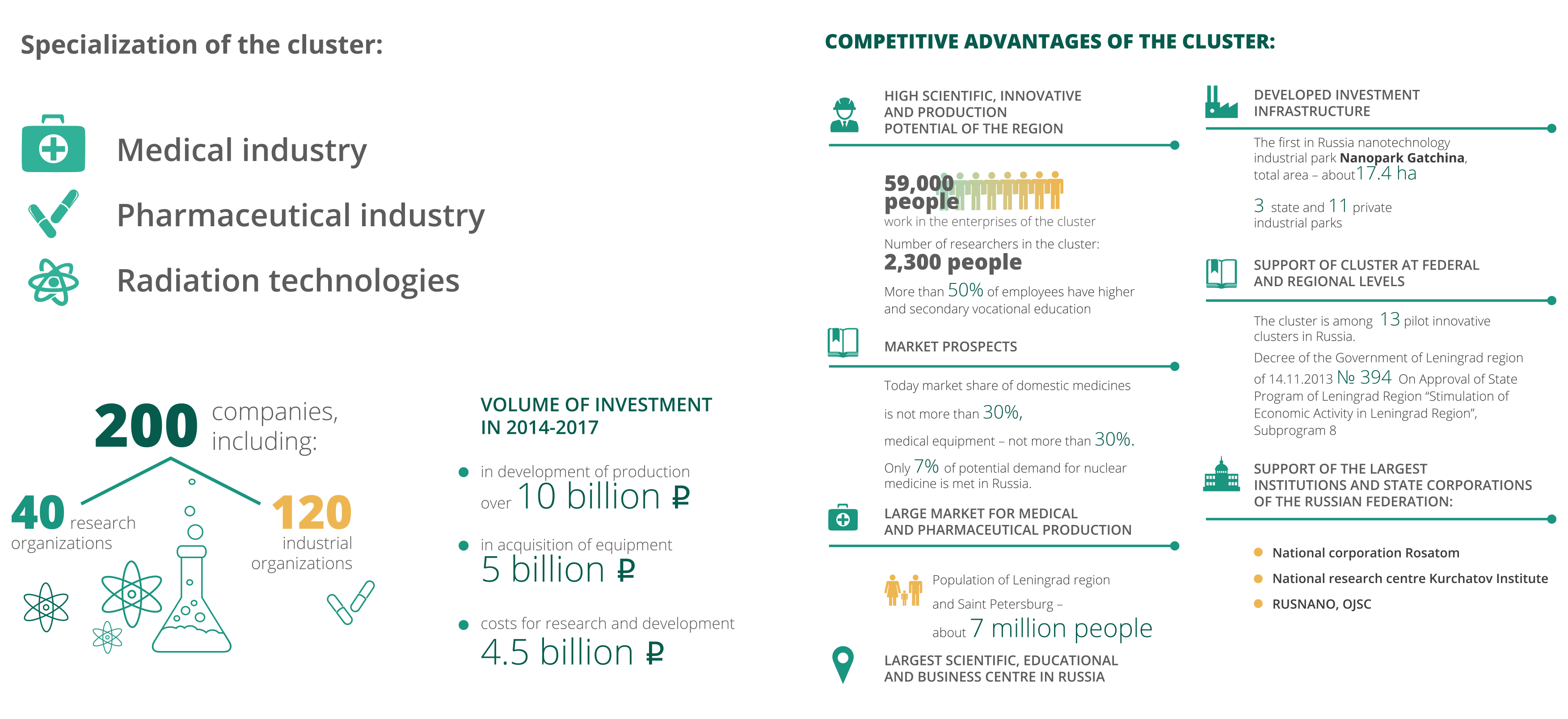 Participants of radiopharmaceutical cluster of Leningrad region:
Leningrad Nuclear Power Plant
http://lennpp.rosenergoatom.ru/
National Research Centre Kurchatov Institute
http://www.nrcki.ru/e/engl.html
Khlopin Radium Institute
http://www.khlopin.ru/english/index.php
NIIEFA (Efremov Institute of Electrophysical Apparatus)
http://www.niiefa.spb.su/?lang=en
Scientific and production company CHEM
http://www.npfkem.ru/about.htm
Severnaya Zvezda, CJSC
National research Institute Electron, CJSC